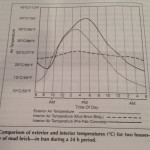 Some common questions that I receive from people interested in building a cob home:
-          What does the temperature feel like inside a cob house in the summer? And in the winter?
-          Can I install central heating and air conditioning in my cob house?
These are very good questions!
Earth soil has proven to be a very suitable and successful building material throughout the world's… Continue reading