I made this model out of modeling clay according to one of my Cob House designs. I still need to design and add the roof.
I made it according to the scale of 1 inch = 2 feet. It's a good size home with central living area (can include a wood burning stove), kitchen, bedroom, and office.
If you have questions, please feel free to ask me.
Like what you read?
If so, please sign up to the newsletter to receive cob building tips and resources, and get a FREE COPY of my eBook, How to Start Building with Cob! Just enter your name and email below: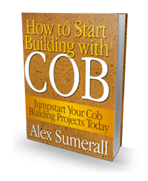 Related posts: