The Freeman – Tiny Cob House Plans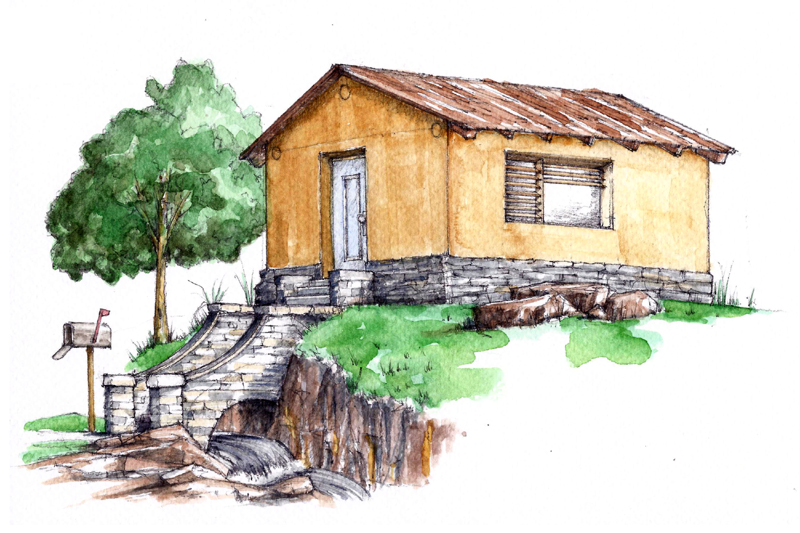 $37.00

Please agree to our

terms and conditions

before purchasing.
After you place your order you will immediately be emailed a link to download the plan package.
The Freeman
Living Space, Office, Bedroom and Sleeping Loft – 120 square feet interior
| | | | |
| --- | --- | --- | --- |
| House width: | 11′ | Ceiling height: | 11′ 1.5″ |
| House length: | 18′ | Loft height: | 4′ 5.5″ |
| Interior width: | 8′ | Loft Space: | 8′ x 6′ |
| Interior length: | 15′ | Height under loft: | 7′ |
The Freeman is a tiny cob home with many purposes. Great for homesteaders, preppers, business people, or anyone who just wants a little cob house. It can be used for many different types of accommodations. The Freeman can be used as a home, an art studio, a shed, a backyard office, or whatever else you can imagine. It can also be used as a temporary home while building a larger home.
The Freeman model is meant to be a compact building that is easy and inexpensive to build. It is meant to provide shelter and comfort for those who do not wish to spend a lot of money. The total cost of construction will ultimately depend on how frugal and resourceful you are, but can be easily built for a few thousand dollars.
The home has an open cathedral ceiling which is accented by the exposed timber rafters and lime plaster finishing. The living space is open for many different floor plan capabilities and has a built-in cob bench set next to the south facing window. The sleeping loft is upstairs and is accessible by a ladder. The roof is covered with clay roof tiles, but any type of roofing material can be used according to your preference.
Living Room
The Freeman has an open ceiling which makes the space feel very roomy. The large window on the south wall makes this space very bright. There is also a built-in cob bench making it possible to sit in the window.
Bedroom
The bedroom is in the loft. It is large enough to fit a queen size bed. Because of the open loft, you can fit a conventional mattress above. At its peak, the loft height is 4′ 5.5″. There is a small window on the top floor to let in the eastern light of the morning.
Office
There is ample space underneath the loft to make your office. There is a large window on the eastern side to illuminate the area along with the light from the open living room. There is still 7 feet of standing room underneath the loft so you will not feel cramped, and you will have room to put all your regular office furniture.
All the great benefits of cob in a tiny house!
Efficient and Warm (Passive Solar)

The Freeman features a wood burning stove which keeps the house warm in temperatures -35 F. All four walls are made of 18″ thick cob. Cob has a very low U-value, which also keeps the home warm. U-value (units of thermal radiation) measures a material's ability to store and transfer heat, rather than resist its loss. Earthen walls function as an absorbent mass that is able to store warmth and re-radiate it back into the living space as the mass cools. This temperature fluctuation is known as the "thermal flywheel effect."
The effect of the flywheel is a 12-hour delay in energy transfer from exterior to interior. This means that at the hottest time of the day the inside of a cob structure is at its coolest, while at the coolest time of the day the interior is at its warmest.
Passive solar design along with cob's thermal mass makes the home naturally cool in the summer and warm in the winter.
Because of its small size, the ceiling insulation, wood burning stove, and thermal mass are sufficient to keep this house warm in the harshest of climates of the continental US and Southern Canada.
Can I add air conditioning?
Yes, a small a/c unit can be added to keep the house cool in any climate within the US.
Construction Plans include over 15 total pages:
Floor Plans – Detailed floor plans for both the downstairs and loft include pertinent dimensions, for walls, windows, rooms and door openings.

Electric Plans – These pages include both the main floor and loft and show locations for all outlets.
Transverse Sections – Perhaps some of the most important pages on any set of plans, the transverse sections cut the house in half and shows details such as wall thickness, roofing material details, flooring details, roof pitch, ceiling heights, and insulation.
Dimensional Diagrams – These diagrams lay out all the major dimensions of the house and tell specifically where windows and doors are to be placed.

Foundation Plans – Detailed diagrams of how to construct the foundation. They also show you where your walls and floor should be built in relation to it.

Roof Plans – Showing a birds-eye view of the house, you see exactly where to place the ridge beam, collar beams, and rafters. You will also get a detailed diagram of how the rafters connect to the walls and how to finish your roof with clay tiles or other material.
Loft Plans – Details on how to construct the loft and place the support beams.
Materials List – Includes raw materials, plasters, windows, doors, insulation, lumber and more with quantities and prices.
Tools List – Includes a list of all the basic tools that you will need to construct the house.
What's not included
Electric or Plumbing isometrics – The plans show the location of outlets, but do not include plans showing the location of pipes and wires inside the wall. Also, plans do not suggest types of wiring or plumbing pipes to use. We suggest working with a licensed electrician and plumber to make sure your house meets your specific needs.
Architect or Engineer seals – Some building departments require a licensed architect or engineer in your state to approve the plans. This often has to do with regional safety or energy issues,for example, hurricane safety in Florida, fire safety in California, energy efficiency in New York, etc. Please contact your local building department to learn about the requirements in your area.
Benefits of Cob Construction:
FIRE RESISTANT – Will not burn down like a conventionally framed space
PASSIVE SOLAR HEAT RETENTION – Non-existent in a conventionally framed space
Incredibly ENVIRONMENTALLY FRIENDLY
Amazingly ECONOMICAL to heat and cool
Perfect for the DO-IT-YOURSELF builder
Benefits of The Freeman:
Its size falls within most building codes "NO PERMIT REQUIRED"
Costs only about $4,500 to build when you do the work yourself
PASSIVE SOLAR capabilities built right in, saving on utility costs
Earthen floor acts as HEAT STORAGE in the winter and COOLING STORAGE in the summer
Amazingly SOUND RESISTANT to outside noises
PERFECT SIZE for someone wanting to build space efficiently
BEAUTIFUL inside and out, creating an amazing refuge
Also included with all plan purchases:
Free Updates – If you buy the Freeman package now, you will also get free updates for a year.
Help Line – All plan buyers will get my personal contact information in case they have any questions. You will get my personal cell phone number and email address.