Today I wrapped up the cob oven project at Lookout Mountain with a final layer of lime plastering.
It's been really cold here in the nights and mornings, which hasn't been good conditions for plastering with lime, but we made it work in the end.
I'm just glad that it's finished successfully. Now we can start baking pizzas!
Here's a video I made showing the building process from day one up until today. I hope you enjoy.
Like what you read?
If so, please sign up to the newsletter to receive cob building tips and resources, and get a FREE COPY of my eBook, How to Start Building with Cob! Just enter your name and email below: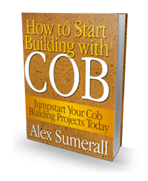 Related posts: