Natural Remodeling? Apply Limewash Paint
Here is a simple, yet functional, way to start your natural remodeling by using a limewash paint. Unfortunately, we can't all have our own naturally built home created out of materials of earth and straw. We can however implement certain natural building materials and finishes into our currently existing homes and buildings though.
I would call this a natural remodel or natural renovation. Take what you have and begin to replace the toxic, energy inefficient, or unappealing materials in a conventionally build structure with materials that fall under the natural building umbrella.
One easy place to start is by substituting toxic, synthetic paints with something all natural and non-toxic. Standard paints these days give off low level toxic fumes and continue to off gas for several months after being applied. These fumes can cause a myriad of health issues so should be avoided.
Substitute limewash for those toxic paints
Generally, for all regular paints on the market (including low VOC paints), anyone with a suppressed immune system with conditions such as HIV/Aids, Chronic Fatigue, and Multiple Chemical Sensitivity (MCS) should avoid rooms with fresh paint of any kind.
Natural building is largely about creating beautiful homes and structures and lowering our environmental impact on the earth, but we have to look at the amazing health benefits of using natural materials to build our homes too.
Using natural paints and finishes is a very big first step in creating a healthier living environment for you and your family.
So I want to introduce you to a simple way to make and apply one type of natural finish to your current home. This natural finish is a basic limewash paint.
Limewash has been used for centuries as a finish on buildings.
Here are some of the advantages of using limewash:
Safe, non-toxic, solvent-free

Antibacterial, hypoallergenic (because of lime's high pH level)

Environmentally friendly

Aesthetically pleasing

Little to no maintenance on interior walls protected from the elements

Shows less dirt than standard painted surfaces do

You can pigment it to add color

Works on a large variety of surface types

Simple and cheap to make
Limewash paint is easy to make and apply
Limewash is a simple combination of hydrated lime and water mixed together into a runny cream consistency. It can be easily applied over earth and lime plasters, brick walls, wood, and even drywall. It adds a chalky matte finish look.
Limewash can be used indoors and outdoors too. And unlike most regular paints that sit on top of surfaces, lime wash sinks in so it's best applied onto porous surfaces such as plaster, stone, brick, or cement block.
Limewash is also vapor permeable so it can be safely applied over any earth or straw based walls allowing moisture to pass through and evaporate.
Two Ingredients: Lime and Water
To make limewash paint, simply mix one part lime to one part water (1:1 ratio). Make sure that you are using hydrated lime powder (masons lime, type S lime, natural hydraulic lime) and not agricultural or gardening lime.
You want to gradually dilute the mixture until your consistency is like cream. You can then add different pigments into the mix if you don't want to use white.
Dampen the surface you are about to apply the limewash to with a small hand-pumped sprayer. Porous surfaces with be "thirsty" to suck up moisture so hydrate the surface first rather than applying directly to it dry. Also, don't apply lime wash in very cold, hot, or wet conditions as this can cause the lime to cure poorly.
And if you're working with lime wash its best to wear gloves and eyewear for safety.
So, limewash is an easy way to add natural ingredients to your home at a low cost. Most standard homes could use a coating of limewash in at least a couple of areas, such as: brick walls, bathroom walls, and outdoor patios to name a few. Instead of painting with toxic paints next time, opt for this non-toxic and classy option instead.
Like what you read?
If so, please sign up to the newsletter to receive cob building tips and resources, and get a FREE COPY of my eBook, How to Start Building with Cob! Just enter your name and email below: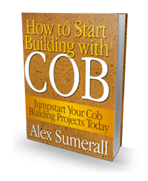 Related posts: