How to Build a Cob House: Step by Step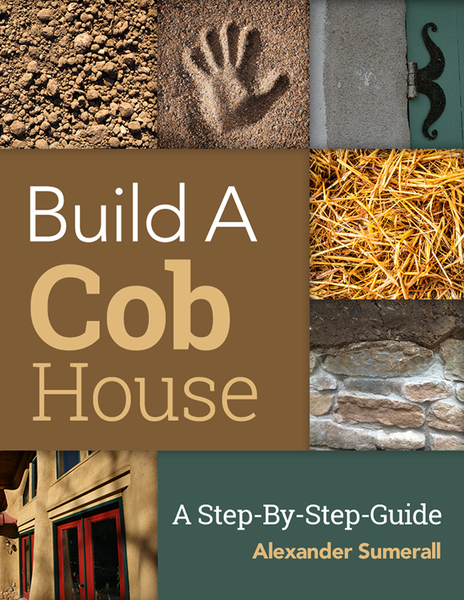 Build A Cob House: A Step-By-Step-Guide [eBook]
by Alexander Sumerall

Price:
$9.99

After you place your order you will immediately be given a link to download the book.
Book Description:
Cob is a building material made out of earth, clay, sand, straw, and water that is pliable and can be hand-sculpted into buildings.
Cob has been used and tested for thousands of years all over the world, and has proven to be a very viable building material. People all over the world are now learning and reviving this ancient building method.
Cob offers answers and solutions to many of the problems that ail our buildings today, and people are very excited and enthusiastic about building homes out of cob. It's looking like cob is here to stay. Building with cob is not about returning to the past. It's about moving forward.
Build A Cob House: A Step-By-Step Guide will teach you all the basics of building with cob. You will learn step-by-step, from the ground up, how to build your own cob home.
"I purchased your book…and let me just say wow! It is a wealth of information!!! You have addressed every aspect of building with cob. I read it from cover to cover and couldn't put it down! The price of the electronic copy is very reasonable. It's affordable for anyone. It would have been difficult for me to purchase at a higher price. Thank you!"
– 93 Pages
Table of Contents
Introduction to Cob and Natural Building

What is Cob?
What is Natural Building?
How else does it differ from conventional building?
Vernacular Architecture
Building Materials
Earthen Building
Advantages of Earth Construction
Characteristics of Cob
Selecting a Building Site

Slope
Sunlight
Water
Soil
Access
Resources
Restrictions
Designing Your Cob House

Selecting a Site
Design Considerations
Thermal Mass and Insulation
Passive Solar Design

Facing South
Window Placement
Passive Cooling

Ventilation and Insulation
Decrease Summer Solar Gain
Thermal Mass and Cooling
Hybrid Building Systems

A Disadvantage of Cob
High Insulation Alternatives
Hybrid Building Design
Cob Ingredients – Soil, Sand, and Straw
Testing and Selecting Soil
Foundations – Basic Principles

What is the foundation? Why is it so important?
Rubble Trench
Stem Walls
Rubble Trench Foundations

What is a rubble trench foundation?
Instructions for Building
How to Make Cob – Tarp Method
Analyzing Cob Test Bricks
Mixing Cob with a Tractor

The Purpose of Mixing Cob with a Tractor
What You Will Need
How to Mix Cob with a Tractor
Cob Mixing – Problem and Solution
Building Cob Walls – Properties and Dynamics

The Basic Process
Monolithic Building
Spine and Ribs
How Thick Should Cob Walls Be?
How High Can You Build?
Vertical and Tapered Walls
How High Can You Build Each Day?
Working Up High
Building Cob Walls – The 4 Step Method
Windows and Doors

Lintels
Frames
Deadman Anchors and Installing Frames
Non-Opening Fixed Windows
Roofing

Basic Roof Components
Gable Roofs
Ceilings
Natural Finishes

Earthen Plaster
Lime Plaster
Lime Wash
Tadelakt
Installing Utility Lines – Electricity and Water

Electrical Lines
Water Lines
Foundation Integration
Access
Beginner Cob Projects

Cob Oven
Cob Bench
Cob Garden Wall
Cob Dog House or Play House
How to Get Training and Learn More