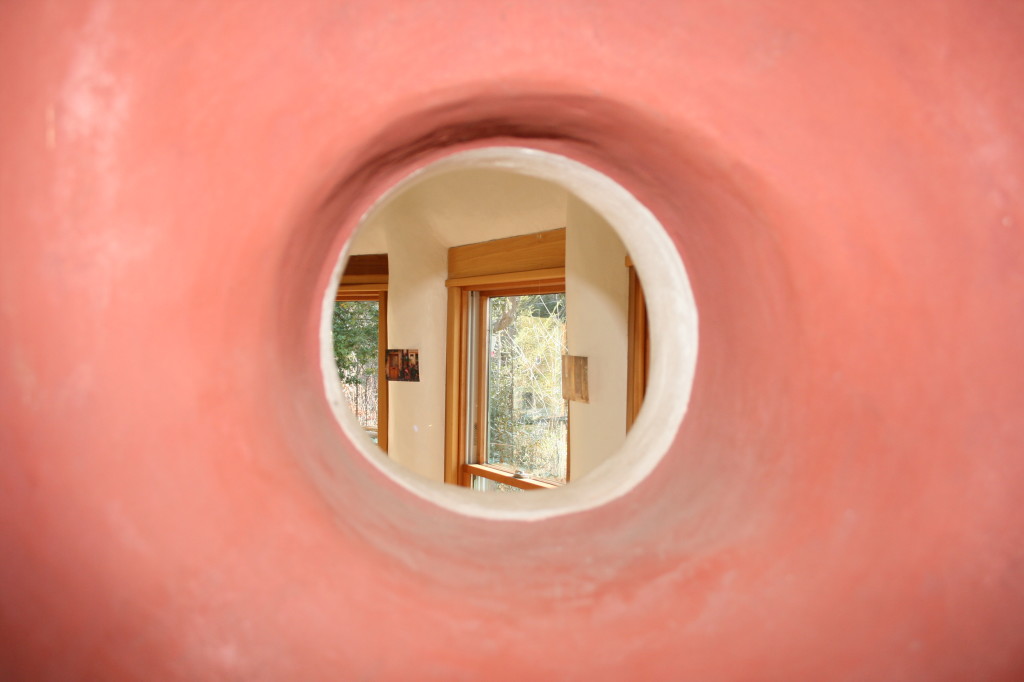 The east coast of the United States isn't known for its abundance of cob homes and other natural homes, but there is actually a lot going on over on this side of the country. Some of this development has been recent and some of it has just been tucked away and out of view for the most part.
Last April of 2014 I visited Angie Bales and Jamie Tyree at The Baleyreeshire in Limestone, Tennessee. At the time, they were just in the beginning phases of their projects. The past summer they had constructed a small cob outhouse building. It was complete but not yet plastered.
Since then, they have held several natural building workshops at The Baleyreeshire and made some huge changes to their site!
I went back to the Shire in January, 2015 to meet up with them again and see what they had done.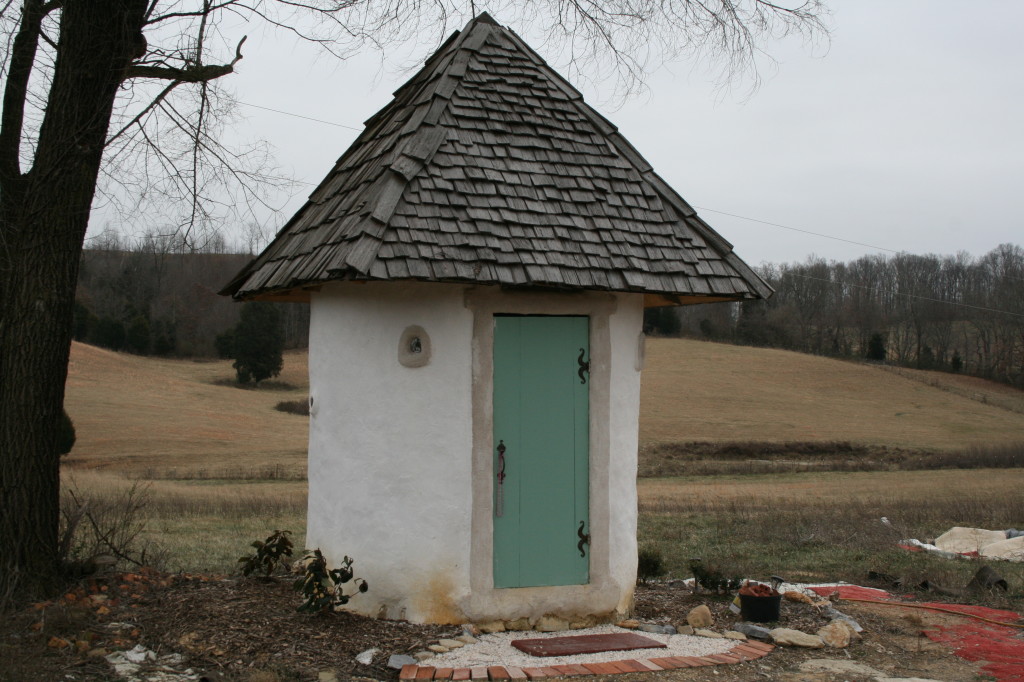 As of now, they have a completed and lime plastered cob outhouse, a cob oven, and two beautiful timber frame structures. One of the timber frames is still being built, while the other is complete and beautifully plastered.
Angie and Jamie have plans to build a small cob cottage next with a stone foundation and living roof.
If you're at all interested in cob, natural building, and especially timber framing then you should get in touch with The Baleyreeshire. Be sure to 'Like' them on facebook too for updates.
The plaster work for the cob outhouse and the timber frame building was led by natural plaster artist Kelly Adair.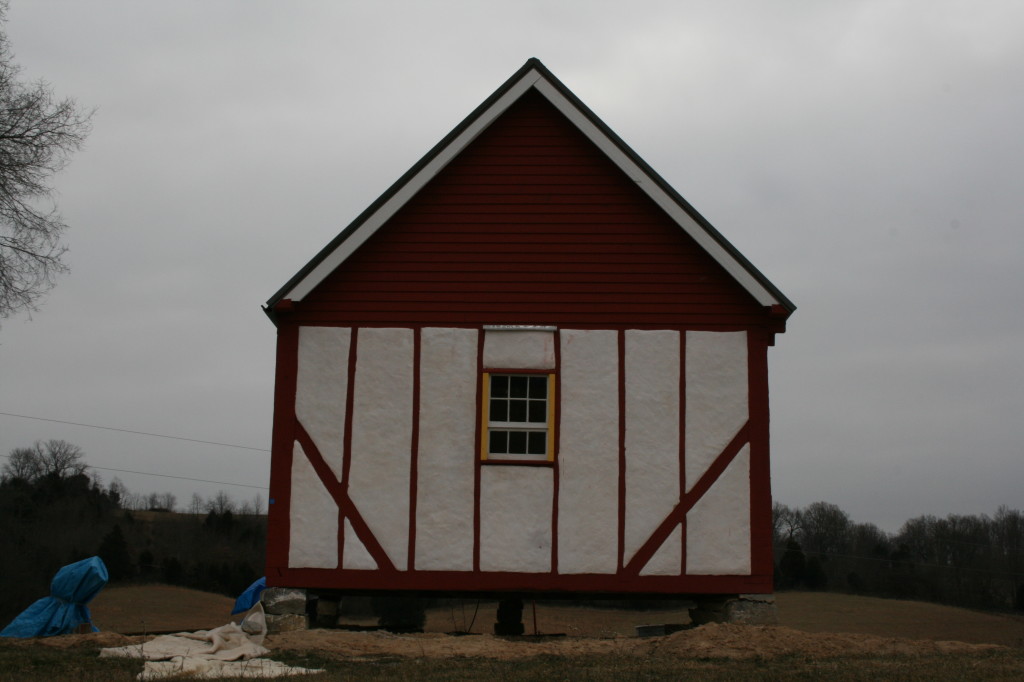 The next stop on my journey to find natural building examples was in Asheville, North Carolina.
I stopped at the Ashevillage Institute to stay at their beautiful, naturally renovated guest house for a few days. All of the rooms are uniquely designed with custom-made clay paints, curved corners, built-in niches and arches throughout.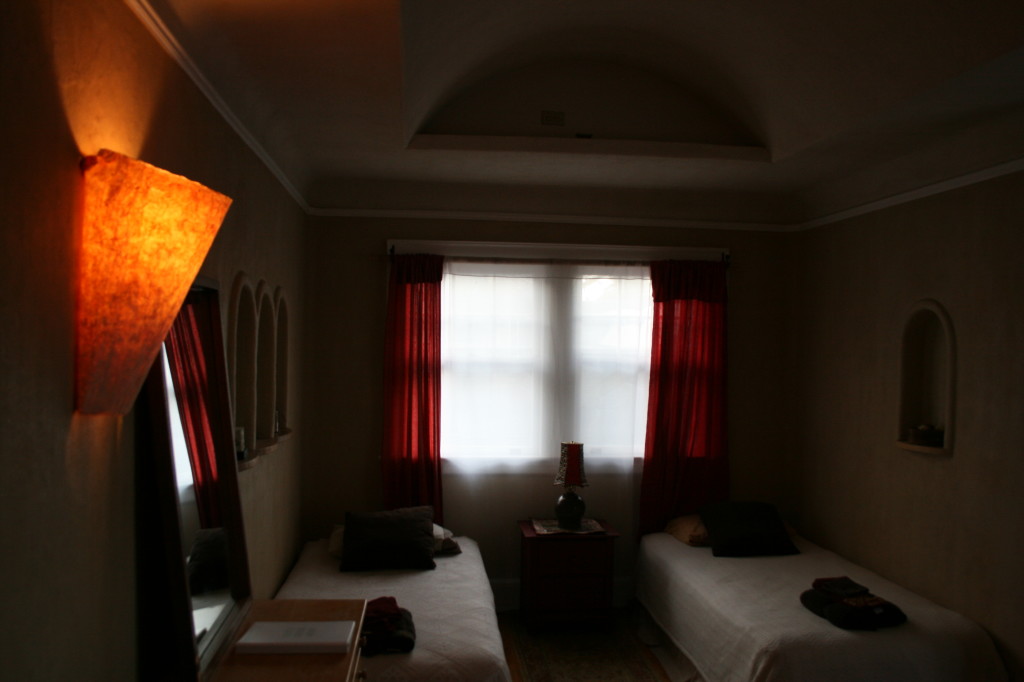 Right outside the guest house is Ashevillage's permaculture demonstration site. It's a perfect blend of natural building and permaculture tourism. If that's the type of thing that piques your interest, consider staying at their guest house or taking a workshop with them at the site.
There is a lot of natural plaster work to see at Ashevillage. There is also a small cob dwelling in the garden, and a cob barrel oven designed and built by Max Edleson of Firespeaking. I met Max when I was out in Oregon and we talked about this oven so it was fun to actually see it in person. Unfortunately its taken a lot of water damage since it has not had a covering built over it.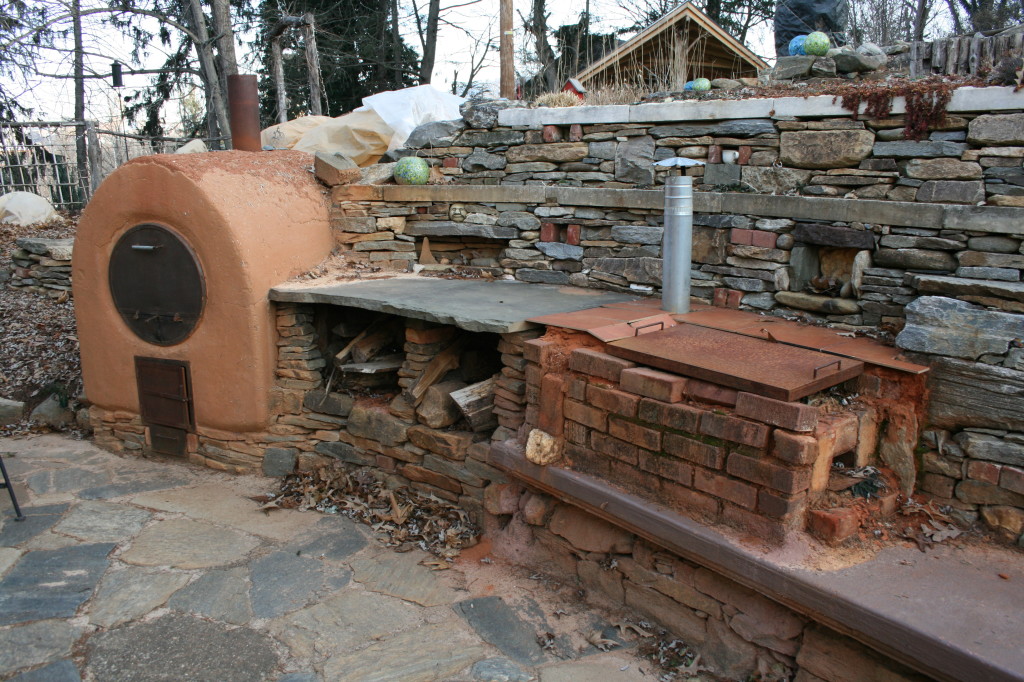 Another great stop that I made in Asheville, North Carolina was to see some projects that Steve O Brodmerkel (AKA "Stevo") had been working on. Stevo used to be the head builder at Ashevillage and has run several successful natural building workshops in Asheville.
I visited his suburban home where he was working on several renovations and natural building projects. When he bought the home about a year ago from the time I visited, the home was covered in overgrown plants and was nearly impossible to move through. Stevo literally made paths through the yards with a machete.
When I came to visit he had transformed the house from its messy state into a very nice home. He had done some nice renovations to the inside and had applied some natural finishes to several of the rooms too.
What really stood out to me was the small building out in the back yard.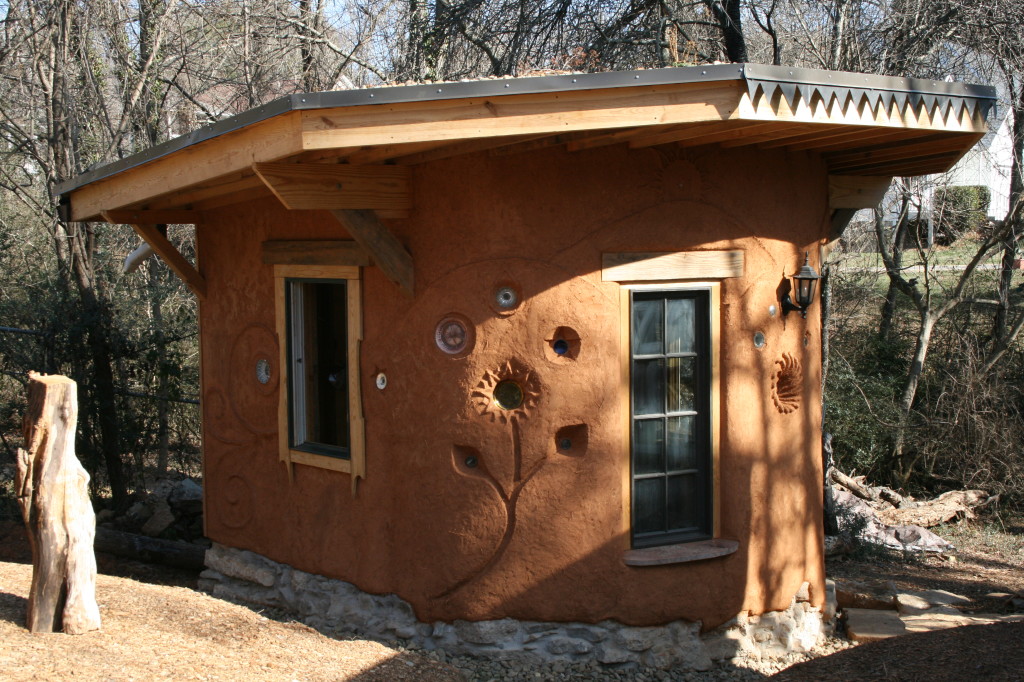 It was a small round natural building that he, assistant instructor Karen George, and a workshop group had built the past summer over the course of about seven weeks.
It was a demonstration of how to build with conventional materials and natural building materials and integrate the two formats together.
A portion was pure stud frame, transitioned to straw-clay, wattle & daub, and then to a full cob wall.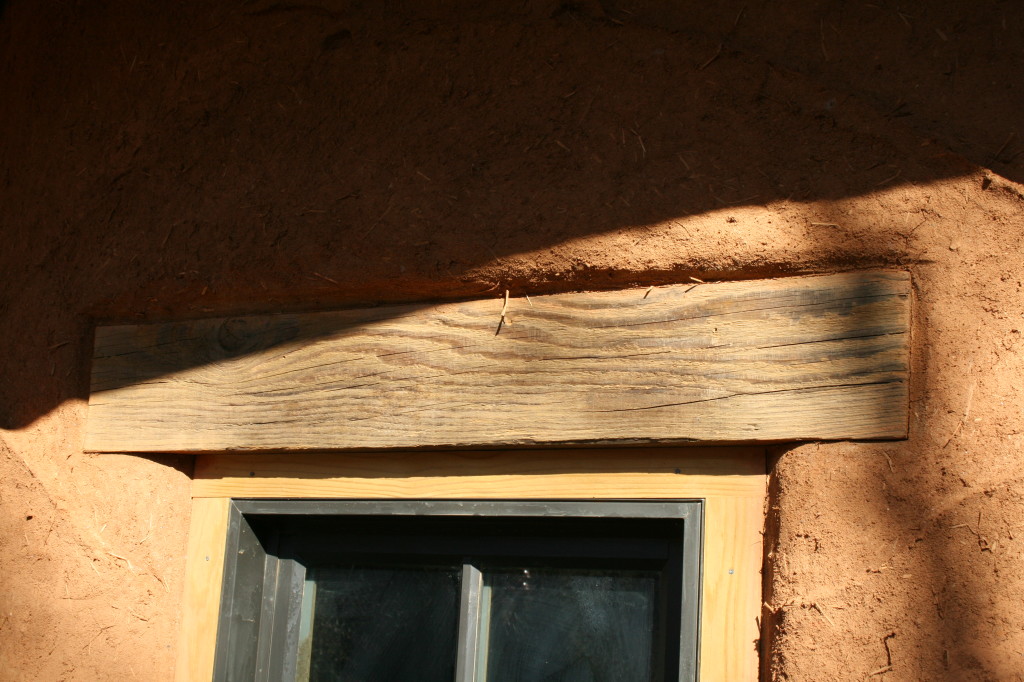 I was fortunate enough to be visiting Stevo's masterpiece building the next day at a place called Earthaven, about an hour and a half outside of Asheville.
Earthaven is an eco-village community that has been around since the nineties. They are off-grid and self-sustainable for most of their needs. They have several natural buildings there and other "green" buildings too. Its definitely worth a visit.
I got a tour of Earthaven by Arjuna, a community resident, and got to visit her natural home there called "Lela" which was designed and built by Steve O Brodmerkel.
The house took about five years to complete, but I can honestly say that its one of the most impressive natural homes that I've ever seen. I think anybody would love to own a home like this. It was aesthetically pleasing to look at, comfortable to be in, energy efficient, and had all the modern amenities of a typical home. It also had a very nice kitchen.
It is a timber framed structure and mostly earthen building consisting of cob and compressed earth bricks. The north side of the building is built out of strawbales for a higher insulation value on the coldest side.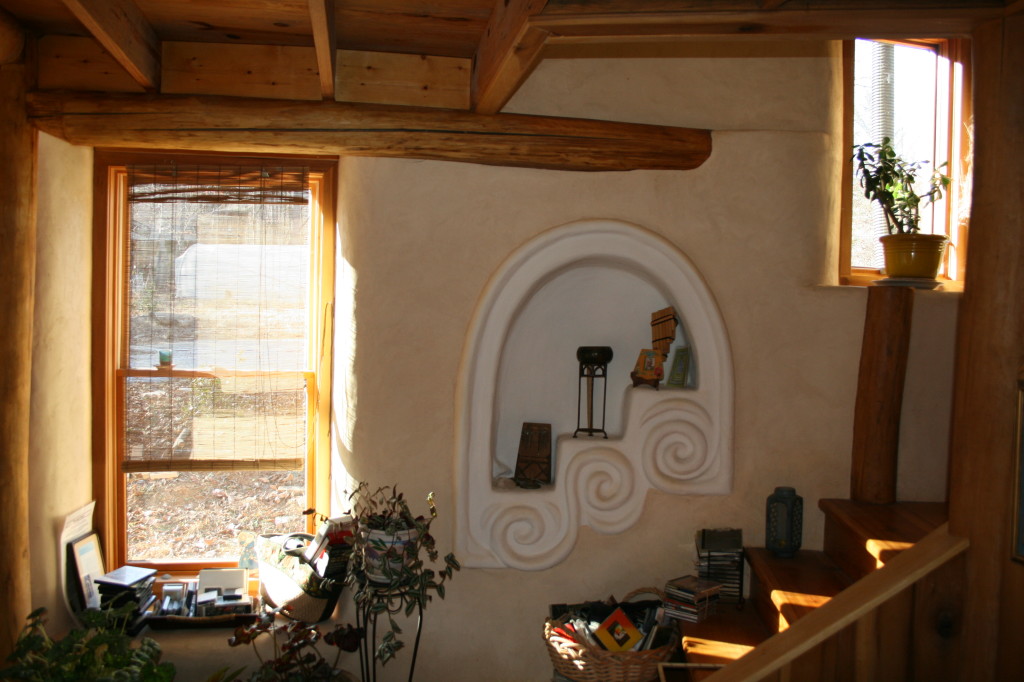 One of the most amazing things I experienced while visiting this building was to feel how warm it was inside.
The building is designed with passive solar features to capture sunlight on the southern side and store it in the thermal mass of the walls and floors.
It was a cold January day in the middle of the Appalachian Mountains, but when you stepped inside this building you felt the warmth envelop you. Arjuna had only burnt two logs in her fireplace early in the morning, but it was still toasty and warm throughout the home late in the afternoon as the winter sun started to dip under the horizon.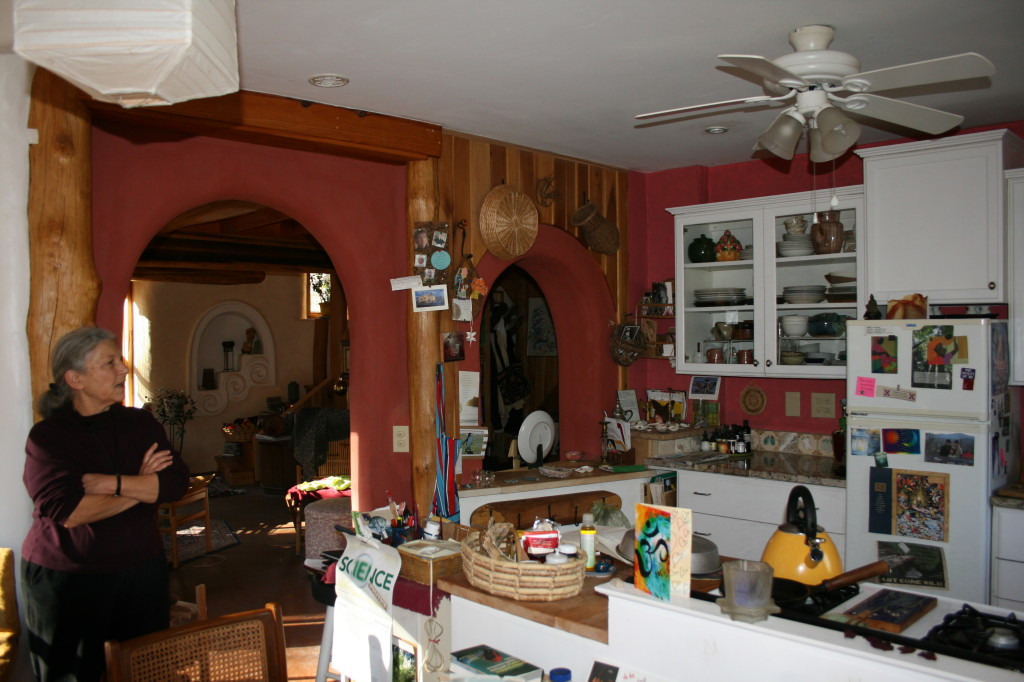 Overall, I was really impressed by everything that I saw on this trip. Natural building is slowly making its way out of the dark and I believe will be getting some more major attention in the next few years.
This was really just a small taste of what you can find on the east coast too!
If you know of any cob structures or natural buildings on the east coast, post it below! We want to hear your comments and experiences too.
Like what you read?
If so, please sign up to the newsletter to receive cob building tips and resources, and get a FREE COPY of my eBook, How to Start Building with Cob! Just enter your name and email below: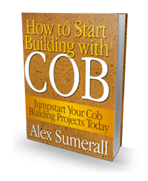 Related posts: