Cob Garden Wall – Building Plans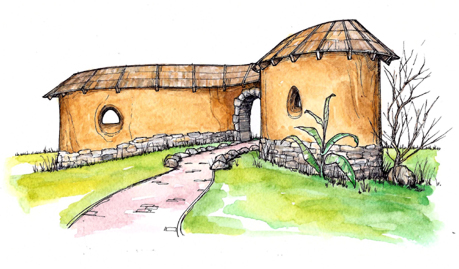 $15.00

Please agree to our

terms and conditions

before purchasing.
After you place your order you will immediately be emailed a link to download the plan package.
A cob wall is a great addition to any garden or yard. They are very versatile and add a natural touch of beauty to your landscape. You can build them in many different styles, heights, and they can be used for a variety of different things.
The Cob Garden Wall plans show you step by step how to build your own wall. This is a great project to do in the Spring and Summer months, and it's a great project for beginner cob builders.
Cob Garden Wall Plans Include:
Foundation Plans – Detailed diagram of how to construct the foundation. Learn how to build your garden wall foundation with proper drainage and to protect your cob wall.
Roofing Sectional – This sectional diagram shows you how to construct the roof over your cob garden wall.

Roof Sheathing Diagram – Learn how to lay the roof sheathing over the rafter boards with this diagram.
Materials List – Includes all the materials you will need to build your cob wall.

Tools List – Includes a list of all the basic tools that you will need to construct your wall.