The Only Cob Building Codes and Regulations Handbook
Get all your questions answered about

cob building codes

and

permits

so you can build your own cob house.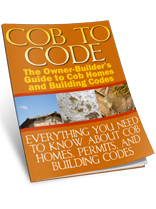 "Cob to Code" is the only comprehensive document that will teach you:
How to build a cob home according to building code regulations
How to get building permits for cob homes
Loopholes to bypass building codes for your cob building

Did you know that there is

no such thing

as a Cob Building Code?
Since there is still no official building code for cob, you need to learn how to work within the complicated and bureaucratic system.
Get the information and knowledge you NEED to build your cob house to code.
The United States, and most developed countries, have laws that must be followed when building a home.
With "Cob to Code" you will learn how to get your cob home permitted and built according to local code regulations.
Here's what you will get inside:
Overview of cob construction and building codes
Learn how the IBC (International Building Code) applies to building with cob
Alternate Materials and Methods Section of the IBC
Building permit requirements for both rural and urban jurisdictions
How to efficiently work within the government's bureaucratic code system
Learn how the trailblazers of natural building are working with or without codes!
Discover the loopholes so you can build without permits or code requirements!
Who is "Cob to Code" for?
People who want to build their own cob house!
Owner-Builders
Natural Builders
Straw Bale Builders
Adobe Builders
Earthship Builders
Rammed Earth Builders
How you will benefit from this knowledge:
You could save yourself thousands of dollars by avoiding code regulated areas! Why pay thousands of dollars for overly-engineered "stamped" designs and inspections when you don't have to!?
Remove the doubt and confusion you've had in regards to building a cob house according to code. You will get a working knowledge of building codes and how to proceed with construction.
Be able to build a cob home for yourself and your family for much less than a conventional home. No DEBT! No MORTGAGE! Live freely and sustainably!
Save hours of research time! This book is a compilation guide and comprehensive road map to building cob homes to code specifications.