In the cob building community we have a problem.
We are building really bad foundations!
I've seen some foundations literally "melt" before my eyes.
Really sad story there, by the way.
But I digress…
Its time to turn this problem around.
And I want to help all of you learn to build a really good foundation.
For your cob house, rammed earth house, or any other type of building.
I've spent a lot of time over the past two years thinking about foundations and how to build them right.
And more specifically, how to build them right for an earthen building.
Because they need special attention when designing a foundation.
So, here is a 20 minute video I produced on foundations for cob homes.
In this video, I show you every little detail that I'm talking about.
If you find this video helpful, I also have all of the specifications that I used to design these foundations available.
And over 130 pages of detailed construction diagrams too!
You can download everything here: http://www.thiscobhouse.com/download-the-course
I've talked before about changing the way cob homes are perceived.
And I'm personally not a fan of the "hippy huts."
I want to see the cob home built to modern standards.
Which is actually not difficult.
In fact, I made a whole series of videos on this topic.
How to design a modern cob home.
In this series, I cover:
Foundations

Electrical & Plumbing

Windows & Doors

Bond Beams

Intermediate Floors

Roofing
And I also give a full, detailed example of a cob home designed to these higher standards.
Download the series here: http://www.thiscobhouse.com/download-the-course
Save
Save
Save
Like what you read?
If so, please sign up to the newsletter to receive cob building tips and resources, and get a FREE COPY of my eBook, How to Start Building with Cob! Just enter your name and email below: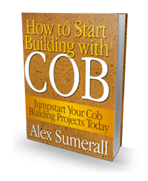 Related posts: