About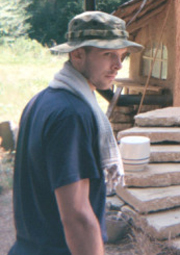 I'm Alex. I'm a 27 year old dude who moved to the foothills of Tennessee to do the things I'm most passionate about. One of them being Natural Building. I consider myself one of the luckiest people on earth.
I have always enjoyed using my hands to create something.
My Dad and I doing some building!
I started from a young age building things like Legos, sand castles, and forts.
My Dad taught me a lot of building skills and passed on to me what he had learned as a builder and a handyman.
Now as an adult, I'm exploring alternative and natural building methods that are more sustainable, ecologically-friendly, and financially cheaper than our conventional construction methods. I believe there is going to be a huge change in the way we build our homes and buildings in the near future.
I'm the owner of thiscobhouse.com and my goal is to provide you with valuable information and a roadmap to help you build your own cob home and other cob constructions.
So Why Cob and Natural Building?
Many people are bringing back the ancient arts of building with earth and natural, local resources. As people have begun to look for more "Green", sustainable, or ecological alternatives there has been a growing demand for these types of natural constructions.
I am using materials directly from the earth, they are not processed, they are local, and they are healthy for you and your family. I am going beyond the "Green" standards of building.
By using an earthen material called "Cob", I am building structures that literally breathe and possess a character of their own. Cob is an amazingly functional material and is very pleasing to live with.